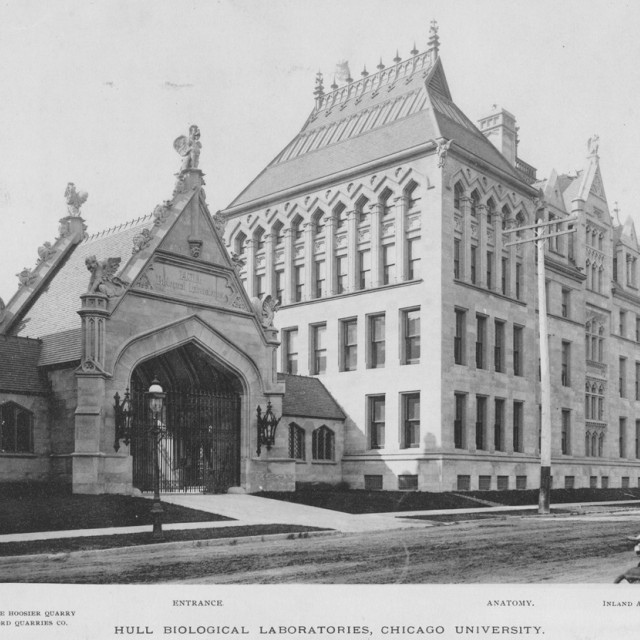 Facilities
The Department of Organismal Biology & Anatomy relies on departmental, campus-wide, and external facilities to conduct its cutting-edge research.
Quick Links
Research Facilities
There are two Zeiss Laser Scanning Microscopes (LSM) available in this facility: an upright LSM 710 and an upright LSM 900 with Airy Scan. The LSM 710 was purchased thanks to a NSF Major Research Instrument Grant led by Prof. Melina Hale and Prof. Victoria Prince. This equipment is made available to members of the University of Chicago and the Field Museum of Natural History, with a primary focus on researchers from the labs within the Hull Court of Biological Sciences cluster (Anatomy, Culver, Erman, and Zoology).
The University of Chicago PaleoCT is a custom-built dual tube X-ray computed tomography (CT) scanner from GE. It is equipped with a 180 kV micro CT tube and a high power 240 kV tube. This setup allows us to scan very small specimens with a resolution up to 0.4 um using the micro tube or dense fossils using the high power tube.
The Office of Shared Research Facilities (OSRF) oversees the core facilities, which make up a pivotal and essential part of the research ecosystem, providing critical resources that enable existing and emerging technologies to facilitate groundbreaking discoveries.  OSRF Cores offer expertise in state-of-the-art instrumentation and services as well as experimental design and data analysis to advance research programs across the disciplines.  Operated as fee-for-service facilities, OSRF cores are managed in order to best support the University's mission to discover and create new knowledge of living systems. We are driven by the research needs of the faculty.
The Marine Biological Laboratory (MBL) is dedicated to scientific discovery – exploring fundamental biology, understanding biodiversity and the environment, and informing the human condition through research and education. Founded in Woods Hole, Massachusetts in 1888, the MBL is a private, nonprofit institution and an affiliate of the University of Chicago.
The MBL's oldest and most singular strength is our convening power, attracting the world's leading scientists and students to Woods Hole. The MBL draws a unique mix of researchers ranging from early-career scientists to Nobel Laureates, and students at levels from high school to postdoctoral. Their interactions have led to multiple, transformative breakthroughs in our understanding of biology. Once largely a feature of summers at the MBL, this convening power is now evident year-round. Well over 500 scientists and faculty are involved annually in our research and educational programs – some based at MBL full-time, some coming to the MBL for portions of the year, and some leading or lecturing in our broad range of research courses.
With a steady flow of students, scientists, and faculty participating in research projects throughout the year, enrolling in one of our research-based courses or thematic workshops, or spending an entire semester here, the special convening power of MBL is making our campus an increasingly vibrant and dynamic location year-round.
Located on Chicago's iconic Lake Michigan shore, the Field Museum opened its current building to the public in 1921—but our story began years earlier.
Our collection grew out of items on display in the 1893 World's Columbian Exposition in the "White City." The exposition delighted visitors with 65,000 exhibits filled with natural wonders and cultural artifacts, many of which later found a permanent home in Chicago at the newly created Field Columbian Museum. Our museum name still honors Marshall Field, who donated $1 million to make the collective dream of a permanent museum a reality. 
Since opening the Museum in 1894, our collection has grown to nearly 40 million artifacts and specimens. The breadth of our mission has expanded, too. We continue to research the objects in our collections, as well as document previously unknown species, conserve ecosystems in our backyard and across the globe, educate budding scientists, invite cross-cultural conversation, and more—all to ensure that our planet thrives for generations to come.
Argonne is a multidisciplinary science and engineering research center, where talented scientists and engineers work together to answer the biggest questions facing humanity, from how to obtain affordable clean energy to protecting ourselves and our environment. Ever since we were born out of the University of Chicago's work on the Manhattan Project in the 1940s, our goal has been to make an impact — from the atomic to the human to the global scale.
The laboratory works in concert with universities, industry, and other national laboratories on questions and experiments too large for any one institution to do by itself. Through collaborations here and around the world, we strive to discover new ways to develop energy innovations through science, create novel materials molecule-by-molecule, and gain a deeper understanding of our planet, our climate, and the cosmos.
Surrounded by the highest concentration of top-tier research organizations in the world, Argonne leverages its Chicago-area location to lead discovery and to power innovation in a wide range of core scientific capabilities, from high-energy physics and materials science to biology and advanced computer science.